From stone pathways to retaining walls, Clean Peak seeks to service all your Hardscaping needs.

Hardscaping Services
Stone pathways
Patios
Creative Outdoor Spaces
Retaining walls
Hardscaping
We are made to experience peace in solitude and in community. To help our customers pursue a space for community or solitude, our team focuses on creating spaces for people to enjoy being together or to create a respite place. Each step is laid out by our designer from understanding your desires to making all the pieces come together through one company and one point of communication.
do you desire a boutique style company that does it all?
Clean has been built to maintain a small local feel while being able to offer all aspects of what your property requires.
looking to accent your yard with stand out plants?
Learn more about our landscape design and installation services.
FAQ | Hardscaping for Commercial and Residential properties in West Chester, PA
As a trusted West Chester landscaping company, our goal is to turn your outdoor spaces into functional and beautiful areas for you and your family to enjoy.
Hardscaping is one of our most popular services. But what exactly is hardscaping and how can you incorporate landscape design into the master plan for your yard?
Here are some frequently asked questions we get about hardscaping and landscaping design services in West Chester, PA.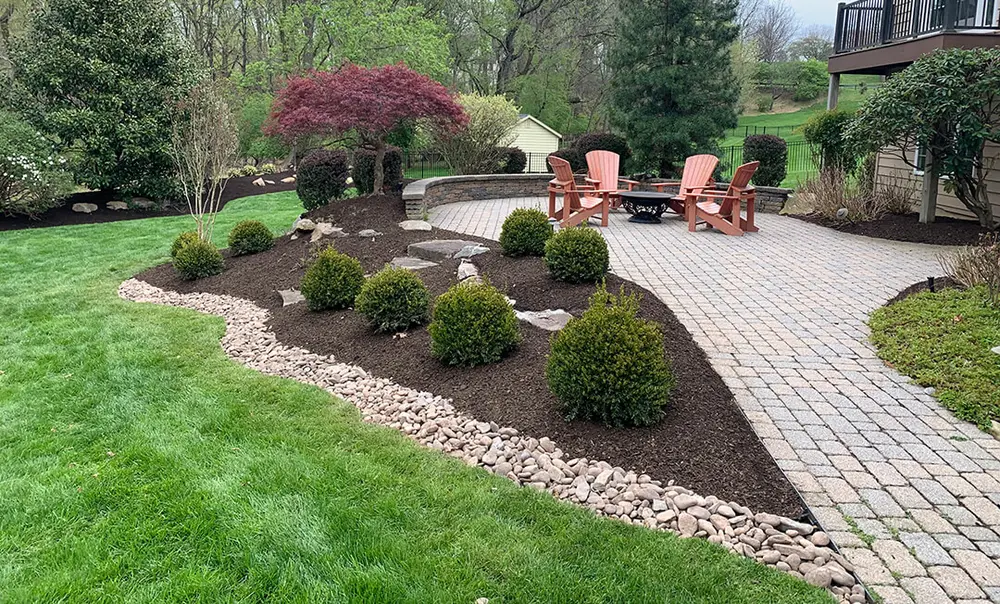 What is the difference between softscape and hardscape?
Let's start with the basics – what is the difference?! In most cases, when people reference "landscaping," they are actually talking about the softscaping. Softscape refers to a yard's live, "soft" elements, like flower beds, shrubs, gardens, trees, and grass. Basically, it is anything that grows and can be planted.
On the other hand, hardscaping is all about the hard areas of your landscape design. So, the non-living, solid elements in your yard. This includes patios, walkways, outdoor kitchens, water features, retaining walls, fences, and fire pits. Hardscape elements are typically designed to shape your lawn and provide functionality to your yard.
Softscape and hardscape can complement each other beautifully and together should be used to create a landscape you love and works for your specific house and lawn. At Clean Peak Landscaping, our expert team of landscape architects and designers can help turn your dream backyard into a reality.
What is an example of hardscape?
Hardscape comes in many shapes, sizes, and materials. Some common examples include:
Outdoor kitchens

: Take your cooking talents outside and enjoy an open-air dinner at your outdoor kitchen.

Patios

: Entertain guests or soak in some sun on a backyard patio.

Walkways and paths

: These can be crucial in guiding foot traffic and protecting your softscaping.

Retaining Walls:

Great for managing soil and preventing erosion in your backyard.

Fire Pits:

Cozy up by a backyard fire pit on a cool fall night.
There are countless ways you can incorporate hardscaping in your West Chester, PA yard! And our landscape installation services can help. Give us a call today and get a free estimate on your hardscape project.
What material is best for my hardscaping project?
When it comes to picking materials for your landscape design, the perfect material will really depend on a few things like the scope of your project, the budget, your specific lawn and its characteristics. When you work with Clean Peak Landscaping, you can work with a landscape architect on staff to get expert input on which material is best for your landscape project.
Some popular choices we work with as a landscaping business include bricks, natural stone, concrete, and pavers. Of course, it is important to weigh each pro and cons depending on your project.
Bricks

: Bricks are a classic and timeless option for outdoor hardscaping thanks to their durability and wide selection of color options. Whether you're creating walkways, elegant patios, or cozy fire pits, bricks are a common hardscaping material.

Natural Stone

: With its natural and earthy beauty, stone can really elevate your hardscaping project. It can last a long time, making it great for both functional and aesthetic purposes.

Concrete

: A budget-friendly option for hardscaping, concrete can be used in countless design ideas for your backyard, making it an excellent choice for larger landscape installations like walkways, patios, and driveways.

Pavers

: With their endless design possibilities and easy maintenance, pavers can create some unique patterns and designs in your garden.
Not sure which material to go with? Do not worry – when you hire us for landscaping services, you will get access to an expert landscape architect to provide insights and ensure you are getting the highest quality material for your budget and project.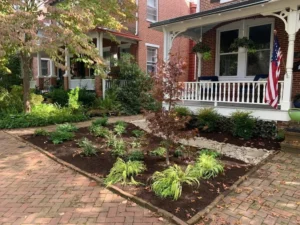 Should hardscape or landscape be done first?
In general, we recommend completing your home's hardscape projects before moving on to landscaping. Why? Well, hardscaping requires building a foundational structure for your outdoor space, which can damage plants and other living aspects of your landscape during the installation process.
Plus, getting hardscaping done first makes it easier for landscaping elements to settle in afterward and you will not have to worry about them being disturbed.
Do I need to hire a professional for hardscaping projects?
Although some DIY experts might be able to handle some basic hardscape projects, hiring professional landscape architects in Chester County experts like Clean Peak Landscaping comes with countless benefits. Just read our client testimonials to see what previous customers have said!
From our expert landscape design guidance to the quality work you get, we are committed to doing a wonderful job, saving you time, energy and money! Hiring a professional landscaping company for large-scale installations or complex hardscaping projects will ensure your project gets completed on time, and safely.
Are hardscape improvements a good investment?
Absolutely! High-quality hardscape improvements will not only increase the usage and functionality of your backyard space, it can also substantially increase your property's value and curb appeal.
Features such as custom patios, fire pits, and outdoor kitchens elevate your outdoor living experience and will make it more attractive to potential homebuyers if you plan to sell down the road. Even if selling is not on the agenda, investing in hardscaping can expand your living space and provide more entertainment options — all while making your home a more beautiful place to live.
Clean Peak Landscaping | West Chester, PA | Your Landscaping Company of Choice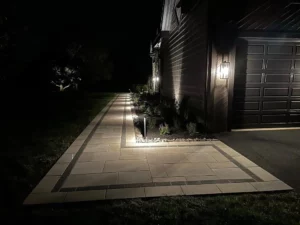 Are you looking to liven up your yard with hardscaping? Give our team at Clean Peak Landscaping a call. We are committed to providing great service and exceeding your expectations when it comes to your lawn care and hardscaping needs.
We want to help you improve the look and feel of your space by creating hardscape surfaces that will bring you joy for years to come. So, if you are looking to up your property game, remember that we have all the right tools and skills to enhance your hardscape!
what our clients are saying

"…honest, reliable, hard-working. ."
Phil and the team- Absolutely professional! Great job, honest, reliable, hard-working. Ahead of schedule and always a competitive price. Local and trustworthy- Everything you want in a business and more! – Kevin C., West Chester, PA

"Reliable, friendly and easy to work with company." – Nancy Knight
"We will definitely use Phil and team again.
Great job! Used Clean Peak Landscaping for the first time and they did an amazing job. Probably hauled 100 pounds of overgrown shrub cuttings away after all the rain we've had. Did a super job — very happy. We will definitely use Phil and team again. – S. Karlin
We are here to serve you. Contact us anytime.
For Mail: P.O. Box 2163
West Chester, PA 19382
Corporate Address: 1009 Squires Dr. 
West Chester, PA 19382