From lawn maintenance to snow removal and hardscaping for your residential and commercial properties, landscapers can do it all. While it started out as adding plants and constructing structures, it has evolved into much more.
Today, landscaping services cover various areas from planning to layouts and are meant to create useable space and enhance the appearance of properties for outdoor activities. If you're interested in landscaping architecture near West Chester, PA, there are a number of factors to consider.
What Does a Landscape Architect Do?
Landscape architects generally cover all work involving the exterior of commercial and residential properties. In order to find the ideal location for your West Chester home, a landscaping architect might work with the home architect.
The landscape architect in West Chester, PA, will then create rough sketches of your front or backyard design depending on your unique requirements, such as the climate and activities that will be carried out, as well as planting ideas and layouts.
Any additional structures that will be added to the area, such as outdoor kitchens and retaining walls, will also be designed by landscape architects. The architect is also in charge of any new grading added to your garden.
These duties may also fall under the purview of an engineer but certified Pennsylvania landscapers are just as qualified in these popular services. Similar to building architects, they will create precise construction blueprints, planting plans, and preliminary idea drawings.
What Does a Landscape Designer Do?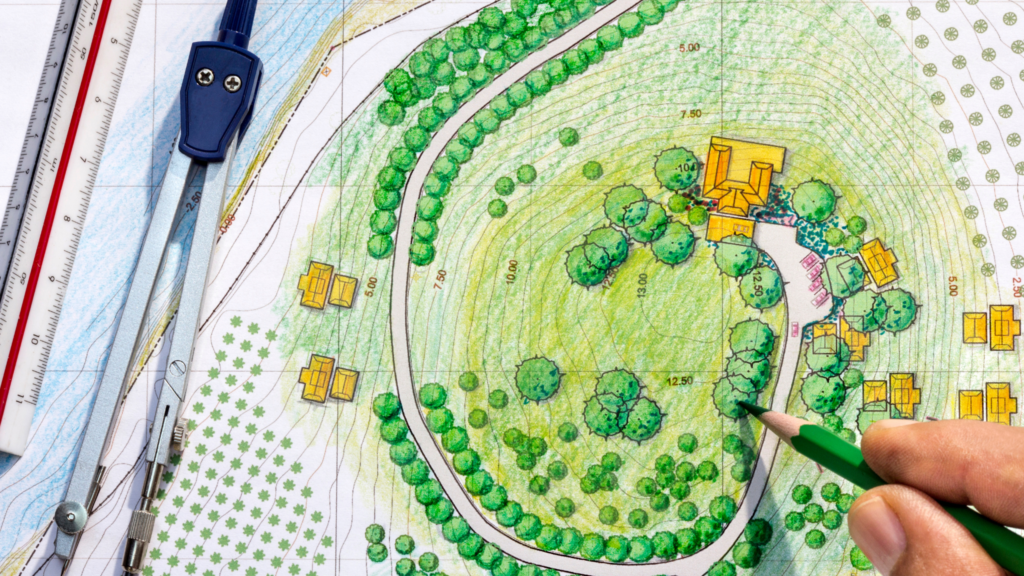 Landscape designers are responsible for analyzing your garden and architecture in order to give you a professional landscape design that includes features you're interested in, such as patios, walkways, fences, water features, and more. These professionals generally have the necessary training to give you an aesthetic and functional outdoor space and to provide excellent service.
Furthermore, landscapers in West Chester, PA, are also responsible for assessing the geographical region to help you choose flowers, trees, and plants that will thrive in the environment and address any issues, such as drainage and soil conditions. 
Some landscaping services merely assist with the planning phase, whereas others may produce the plans and then supervise a landscaping contractor that has been hired. Others handle the design and every facet of landscape construction and architecture, usually using a design-build methodology. 
Before hiring a landscaper, think about the size and focus of the project. Those with advanced degrees in their area who have been taught to create detailed structural plans that incorporate plants, hardscaping, water consumption, drainage, and more are generally employed by landscape architecture businesses.
The Landscaping Process
Landscaping blends science and art. A landscaping specialist can assist you in transforming your property since they are knowledgeable about horticulture and are familiar with the aspects and concepts of landscape design. 
You will be guided through the design and construction phases of the landscaping process by the landscape designer, architect, or contractor you hire.
Plans for the landscaping translate concepts into images and guarantee that scale and arrangement have been considered before implementation. Your landscaper will design a yard layout that is functional for you and addresses common landscaping issues such as the sun, wind, hills, and a lack of space.
What Questions Should You Ask When Trying to Find Landscapers?
If you're looking for a landscaper in West Chester, PA, to handle your next project, make sure to ask the following questions to ensure you're getting the right person for the job: 
Do you have any client testimonials or references?

How long have you been in the landscaping industry?

What climates and regions do you normally work in?

What do your services include?

Can you give me a written, free estimate?

Who will work on the project design?

Are there any concerns or considerations that might come up at a later stage in the project?

What do I need to provide?
Get Professional Landscaping Work in Chester County
Do you want to add outdoor lighting to your property to increase its curb appeal? Perhaps you want a complete redo of your front and back yard. Whatever the reason, make use of professional landscaping in West Chester, PA, to bring your vision to life!